Welcome to Pile It On, where we "pile on" the challenges!
To view our current challenge please
click here

Our Challenge begins every other Sunday at 7AM CST (U.S.), and closes on Saturday at 11:55PM CST.
We announce WINNERS on the Sunday after the new challenge is posted. If winners do not contact us in 1 month time frame the prize will be voided. All prizes are offered generously by the sponsor and once your contact information is received by the sponsor Pile It On is not responsible for the receipt of the prize. Thanks for your understanding in this matter.


Sunday, May 31, 2009
How do you like our new signature?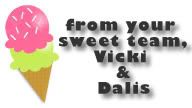 Posted by

kramer_buffy
at 3:01 PM
4 comments:

Thursday, May 28, 2009
Hi everyone!  If you find us before we go live, please add yourself to the followers list or subscribe to us to keep you informed!
We will be LIVE very very soon!
Posted by

kramer_buffy
at 4:10 PM
No comments: